The area of town where I work has undergone a huge rehab in the last 5 years, transforming from old empty factory buildings and abandoned gravel parking lots, to a booming district full of restaurants, music venues, retail, modern high-rise condos, and even our very first Urban Outfitters! The Gulch is also the first LEED certified neighborhoods in the South!
Go Green! Yee-Haw!
Here is a recent shot of "The Gulch" in Nashville, TN.

Anyway, across the street from the Supper Club where I work, a Cantina Laredo opened last week and I was lucky enough to get a "soft-opening" invite (where the restaurant is closed to the public but open invite-only for guests to come in and try the food for free and give the servers/kitchen some practice)
I was pretty excited for a few reasons. First, I have heard a lot of great things about the place, secondly I freak out over good Tex-mex, and lastly because it was going to be free!!!!
MAMA LIKES FREE.
The one thing that had me hung up from the start is the fact that they describe themselves as "gourmet Mexican food."
Isn't that a bit of an oxymoron??
Regardless of my natural skepticism, I remained hopeful until Sunday rolled around and I could see for myself whether Cantina was really worth all of the fuss.
I really wanted to be blown out of the water with this food.
Okay so let's start with the chips and salsa duo brought to the table right from the moment we sat down.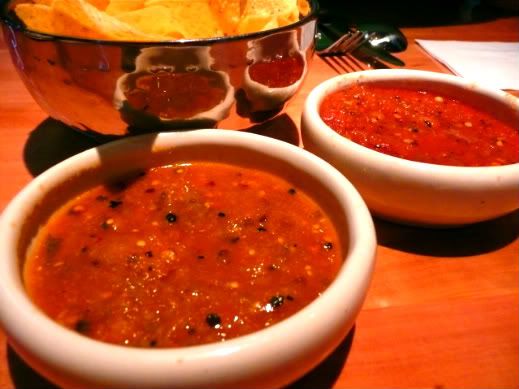 One salsa was served hot, one was cold, and they were both pretty spicy. I would have prefered a sweet mild version also, but beggars can't be assholes, so I dealt with it by stuffing my little face.
Onto the most memorable item of the evening: The Tableside Guacamole.
Yes, "tableside"…….as in, they prepare it directly at the table….including such all-star ingredients as: fresh avocado, cilantro, sea salt, garlic, onions, jalapenos, tomatoes, & lime juice. It was really delicious and wonderful.
Seriously.
I should also mention how delicious the margaritas were. Fresh lime & and lemon juice…no syrupy sour mix…just fresh juice. Outstanding!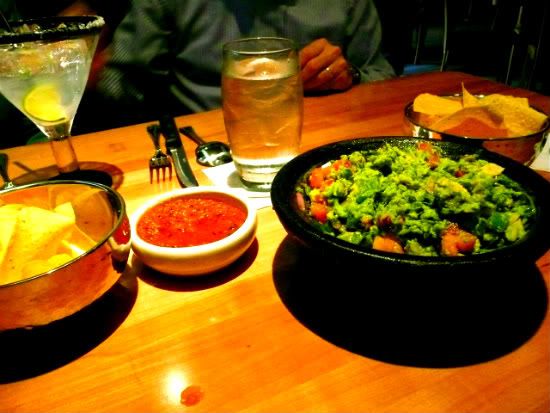 Onto the entrees!
We ordered 3 different entrees and shared them amongst ourselves:
1.) ENCHILADAS DE CAMARONES~
consisting of shrimp, monterey jack cheese and roasted peppers in enchiladas
on a bed of spinach and vegetables topped with sour cream
poblano sauce and cost $16.99
These were good, but not amazing.
Kind of bland.
The shrimp were well cooked and the spinach was a nice touch. The menu says "grilled veggies" but there were only onions lurking beneath the spinach so I'm not sure what that's all about. The presentation was pretty but I had a hard time pointing out what was "gourmet" about the dish…
Pictured below:

2.) SHRIMP FLAUTAS~
Three fried tortillas rolled up and stuffed with shrimp, monterey jack cheese and fresh jalapeños served with a cilantro sour cream and grilled veggies and cost $15.29
These were very tasty, but mostly because the fried tortillas had such a nice crunch and the cilantro sour cream was a near perfect addition. The shrimp on the ends stuck out of the tortillas, tails still attached, (which I suppose was simply a presentation aspect, but it made eating them a pain in the ass because you had to pull them out, sever the tail and then stuff it back in there yourself….ehhh…)
This dish came with grilled veggies so maybe they just forgot to put them on the enchilada plate?
Pictured below: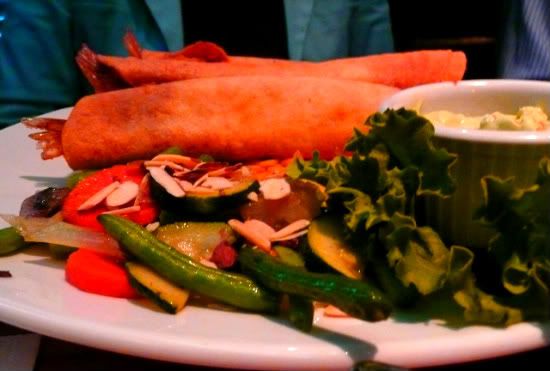 3.) CAMARON POBLANO ASADA~
Carne asada steak wrapped around a poblano pepper filled with
sautéed shrimp, mushrooms, onions and monterey jack cheese,
served on a bed of chimichurri sauce and cost $21.49
This was definitely the winner of the three despite the fact that everyone agreed the steak was WAY WAY WAY too salty. We were all shocked at how tender the meat was, and the pepper stuffed with cheese & shrimp was just really freakin' tasty.
Pictured Below: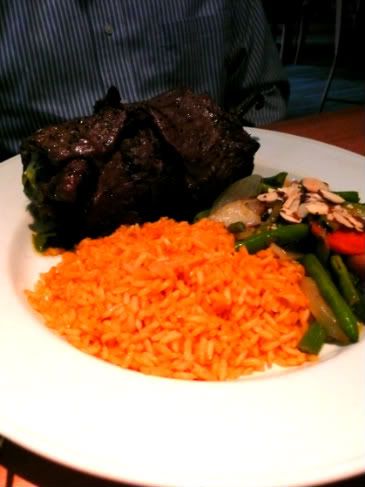 Finally, we ordered two desserts:
1.) Flan: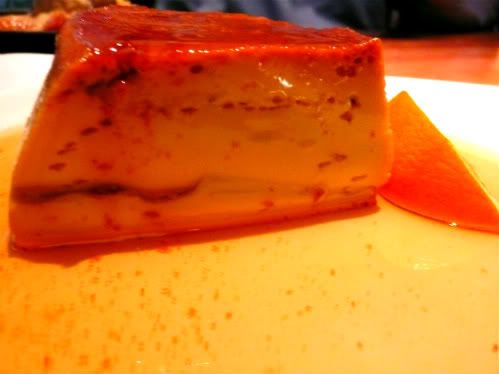 I had never had Flan but my Stepfather raved about it and I was certainly not dissapointed! Yum.
AND
2.) Apple pie with sizzling brandy butter and cinnamon ice cream: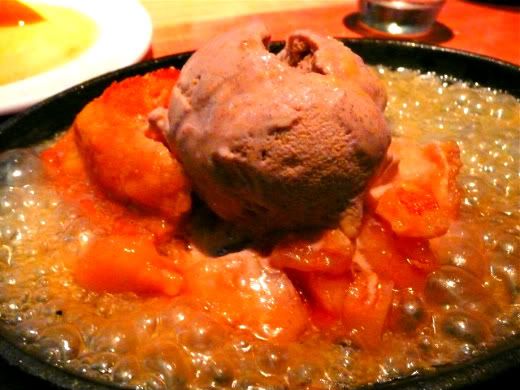 I seriously had to fight the overwhelming urge to rub the bubbling brandy butter all over my naked body, but my parents were present so I reeled it in.
Honestly….. the Margaritas, Guacamole, & Apple Pie were the shining moments..
I'm still not sure what was "gourmet" about the meal except fancy presentation and fresh ingredients.
It was good tex-mex, albeit a bit pricey for what was delivered.
After it was all said and done, it didn't blow my mind.
But Mama Loves the FREE!
Check it out sometime:http://www.cantinalaredo.com/