I know.
It's been weeks.
WEEKS since I last updated.
But alas, another school semester has begun for Gimmeyummy so you'll just have to be patient and forgiving when there are more blog hiatus situations going down ……until December…and then blog overload begins!
So onto the food shall we?!
I'm going to start by saying that Bread & Company is reasonably delicious but too fucking expensive.
If you aren't currently residing in Nashville then you may not know about Bread & Company as it is local.
Check it out here:http://www.breadandcompany.com/
Their Award Winning Tarragon Chicken salad sandwich is 8 bucks and a bowl of tomato Basil Soup is 6 bucks…add a drink and tax and you are nearing 20 bucks for a quick bakery/deli lunch.
I dunno, maybe that's nothing to most people..
But the "Award Winning Tarragon Chicken Salad Sandwich" did not stand out as winning any awards except maybe the "Boring Award."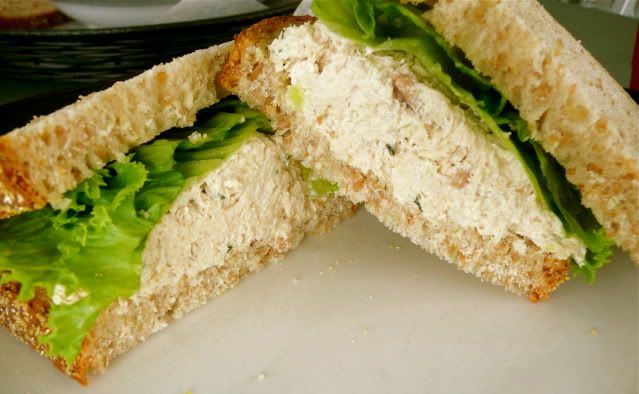 Does this look like an award winning sandwich to you?
Because it sure didn't taste that way to me.
Where are the veggies?? The flavor!? The SOMETHING!?
Are they just giving out awards for anything these days?
Jesus Christ.


The Tomato Basil Soup on the other hand is really good and perfect for dipping your very bland chicken salad sammy into, in order to bring it back to life.
The sweet tea is also so insanely sugary at Bread & Company. So much so that I had to do about a 1/4 sweet tea ratio and a 3/4 unsweetened tea in my To-go cup to achieve a normal sweet tea sugar level.
I'm sure you just think I'm being bitchy because I'm a poor college student and have a bunch of homework which has led me to be cranky. Well, that isn't what's going on here.
I just think that it's a bummer to charge that much and have merely a decent sandwich delivered to your kind patrons. Or at least guarantee me that Nicole Kidman is going to be up in there eating her lemon wedges and cappuccino foam looking all ethereal and alien. Oh the joys of living in Nashville!