Behold! The most delicious salty pretzel-oriented snack I have come across in recent history.
I give you, with great pleasure and yellow-mustard-dust-covered fingers,
Archer Farms Honey Mustard Savory Pretzels!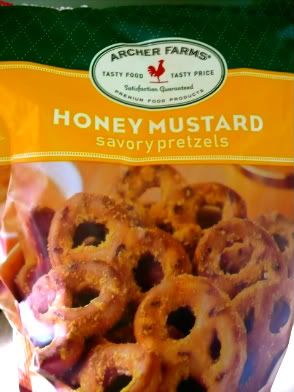 If you don't like Honey Mustard than this isn't for you.
If you don't like having fun or delectable bite-sized snacks, then this is also probably not for you.
If you are at all any sort of "hater" or are generally disliked by your peers then I dare say this palatial wonder is not for you.
If you are against devouring an entire bag of crunchy and perfectly seasoned pieces of pretzel heaven, then I must say this is indeed not for you.
(And on top of that, we are friends no more!)
Which, is totally okay with me, because it means that Target will never ever run out of Honey Mustard Pretzels, and I don't have to deal with your irritating snack-disliking nonesene!
So, c'mon mustard lovers of the blogosphere…gaze with me now at the glorious mustard love dust!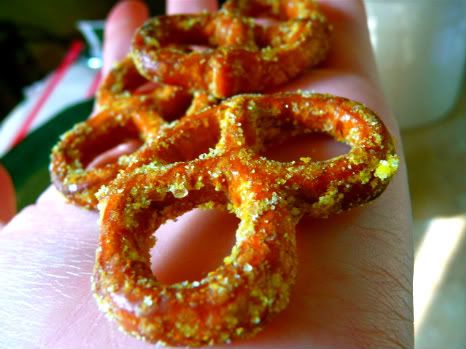 Let's all drool together in unison while simultaneously chanting praise for the greatness that is the union of mustard and pretzels!
Louder! LOUDER!
FEEL THE GLORY OF THE MARRIAGE OF SALTY AND SWEET!!
ARE YOU FEELIN IT!?
Okay. Okay.
That's pretty good.