It is time for me to stop hogging the best kept secret in the world of healthy yet delicious sweet treats. I have been having a love affair with Greek yogurt for a good 8 months now and I have never been so happy with a healthy dessert. My love for sugar is no secret, but I seldom indulge because I've had to do the work before to shed the repercussions of said love and losing weight is far more frustrating and difficult than the process of gaining. (Ohhhhhh if it only worked the other way!)
Buyer beware: This is no syrupy sweet Yoplait nonsense. This is the creme de la creme of yogurts. This is yogurt for adults who respect and admire the craftsmanship and hardwork that goes into creating a food that can serve as breakfast, dessert, and a beneficial work out snack. ( and provides active cultures for our lovely lady parts!)
Please treat your Greek yogurt with the respect it deserves and do not stir (you'll ruin the fluff!)
Gently fold in your fruit or granola or whatever. It actually says on the container "Please do not stir!"
This is serious business folks.
So, before I run off and marry my container of Greek yogurt, I will introduce you to my dearest love:
I give you FAGE Greek Yogurt!!!(pronounced fa-ye)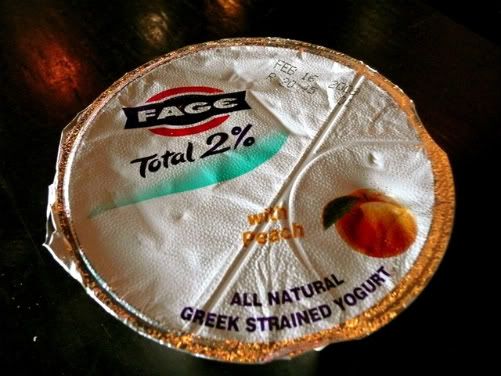 Get the kind with mix-ins and you will forget you ever cried into a half gallon of Edy's double fudge brownie. (well maybe not. But you will be glad as hell that you listened to me. And so will your scale.) The consistency is amazingly rich and thick. Greek yogurt is not sweet, and by itself can be a bit sour, but seriously…add a tablespoon of honey and a handful of granola and your brain will be dancing. The Peach version is my favorite by leaps and bounds and has a mere 140 calories, 2.5 grams of fat, and 10 grams of protein. Just look at how perfectly fluffy and heavenly my spoonful of FAGE looked right before I crammed it down my gullet today at lunch!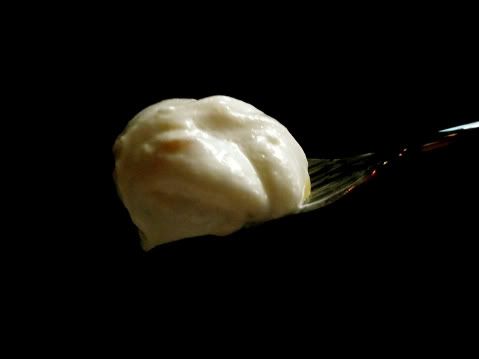 Currently I can locate FAGE products at most organic markets in my area and also Harris Teeter. FAGE is of course not the only Greek yogurt on the market, but I'm no whore. I'm sticking by my man…..er…..brand.