I have been doing a lot more baking lately now that I have accepted that baking requires exact measurements and I really have to pay attention.
I'm sort of a rebel in the kitchen.
And by rebel I mean that my knife skills are laughable, I have no idea how to do 1/8 of the fancy culinary tricks on Top Chef, and I have no formal or informal training.
I just sort of wing it.
Despite my being a complete novice in most respects, I am learning as I go.
The thing about baking that I have definitely learned is that most of the time 2 eggs means 2 FREAKIN EGGS!
I've gotten pretty comfortable with making the perfect chocolate chip cookies, and this weekend I got a little bit more creative and added peanut butter to the mix.
I used a recipe from one of my favorite baking blogs http://www.joythebaker.com/blog/2008/03/peanut-butter-chocolate-chip-cookies/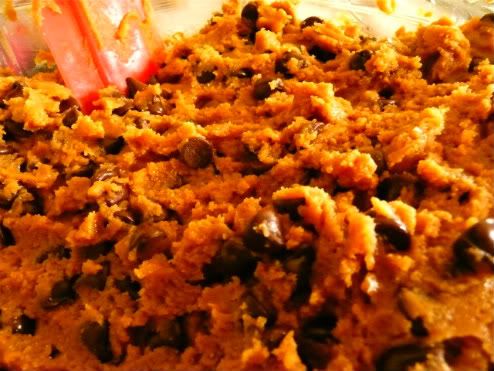 The dough was much firmer than what I've gotten used to when making chocolate chip cookies, and the recipe called for 1/2 cup more flour than I typically use.
(this worried me)
The recipe also called for rolling the cookie dough balls in just a tiny bit of sugar before placing them on the parchment paper, but that sounded pretty smart and was actually a super nice touch!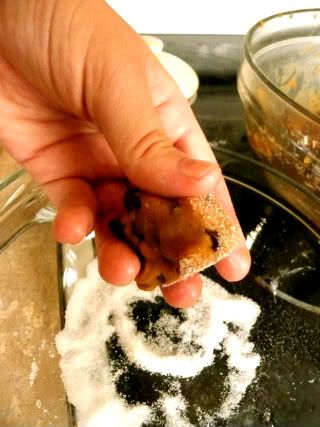 I must say, they looked much prettier once rolled in sugar.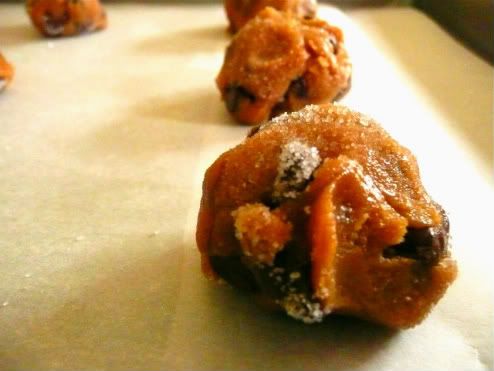 Peanut butter cookies just aren't complete without their traditional criss-crossed fork pattern!


I only have enough cookie sheets and oven space to bake half of the cookie dough this recipe yields at a time and this served me well because the first batch I baked came out a little bit cakey and spread weird (which I had sort of expected might happen since the recipe called for that extra 1/2 cup of flour).
In order to salvage the rest of the dough I simply mixed in another half stick of butter and let me tell you, these came out SO MUCH BETTER!
I think perhaps the extra flour is due to the addition of the peanut butter, but the kind I used wasn't very oily and maybe that made a difference.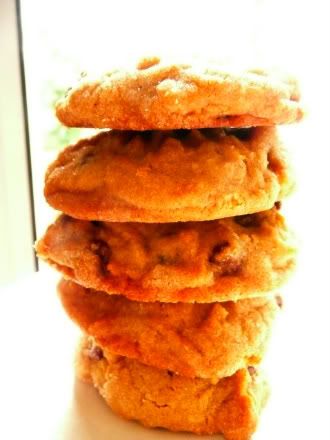 I would definitely suggest only using 2 cups of flour, or adding an additional stick of butter to this recipe if you like crunchier, less cakey cookies.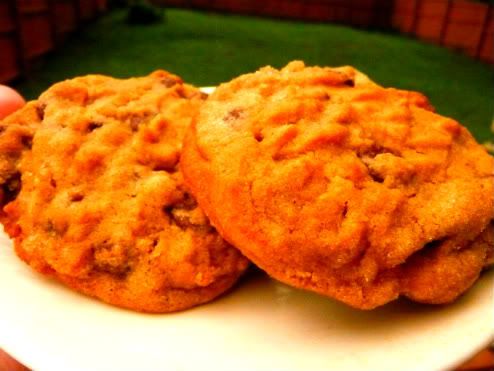 They were absolutely scrumptious and I pawned them off quickly onto family & friends.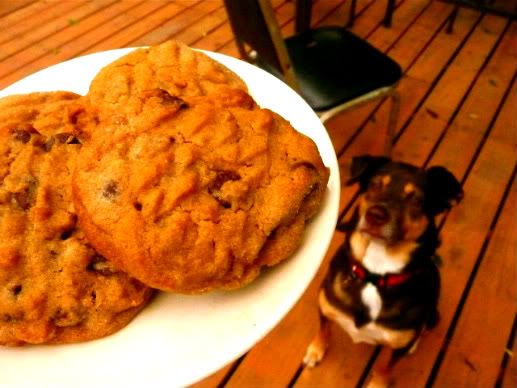 See? Even Nina approves!