My best friend in the whole wide world ran away to the mountains and eloped with the love of her life a few weeks ago! So naturally when she came back to town I took her out on a fancy date to celebrate!!
We went to Miro District in hopes of having a nice quiet French meal fit for a newly married goddess and her bestie (that's me).
Despite hearing a couple of not-so-great things about this place, I had also received some positive feedback, specifically that they had acquired a new chef recently who means business with French inspired cuisine.
The decor in Miro District is clean and simple. A white table cloth kinda place that has zero personality.
Let's hope the food is better.
We ordered a couple of small plates to start with which we devoured like wild animals.
Success!!
Sauteed chicken livers with little toast rounds and fresh apple…Oh man!
Delicious! Hearty, velvety, dark, and perfect for the season.
I haven't had Chicken Livers since I was a little girl, but hot damn they are divine!
Maybe it was the lighting issues I was combating and perhaps it is just that Chicken Livers are difficult to make beautiful no matter what, but the pictures of the chicken livers came out so horribly that I must spare you.
We also split the Goat Cheese Tart with arugula salad and fig jam.
Delightful! Much like a tangy savory cheesecake.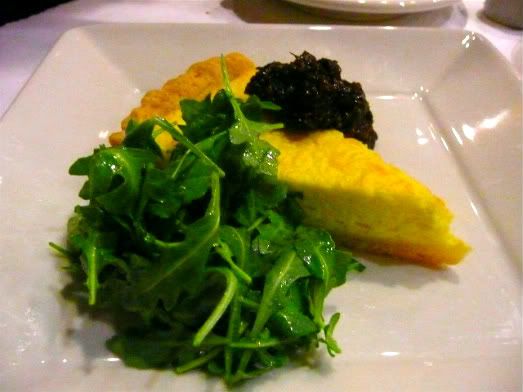 This was followed by a heavenly entree of Swordfish atop razor-thin sliced potatoes in a soft buttery lemon infused broth with herbs and carrot slivers.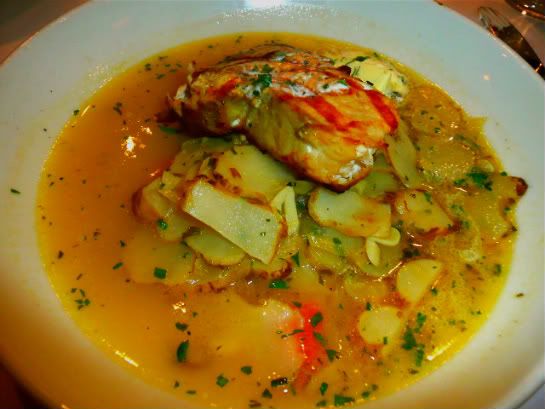 Nicely done. I could have drank that broth with a straw if I was so inclined.
My super special awesome just-got-hitched best friend ordered this hearty brown stew of fava beans, mushrooms, and braised rabbit (which like the chicken livers, was not very pretty to gaze upon….again I held off on the photo representation…)
But the meal was lovely. She took a bite of mine, I took a bite of hers. We laughed, we commiserated, we enjoyed our food!
We both agreed that we should go camping with that stew. Perfect bonfire deep woods fare!
My Swordfish was perfect and the Chicken Livers I actually dreamed about eating the very next night!
Unfortunately, the dessert options were as boring as the decor.
Bread Pudding, Vanilla Ice Cream & Berries, Creme Brulee……YAWN.
We went ahead and ordered the Creme Brulee, because we just wanted something sweet.
It was actually really tasty (despite the complete lack of garnish. No berries, no mint…nothing).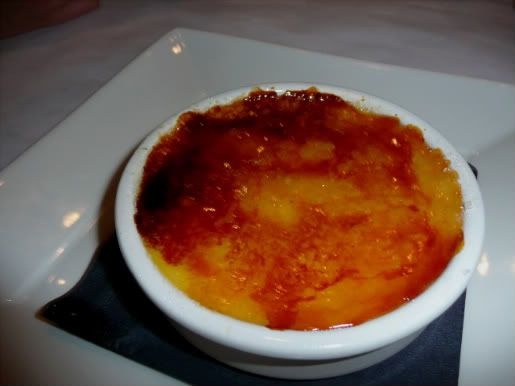 (This photo isn't that spectacular either, but I was having kind of an off night with the photography so you know, whatever).
But you see what I mean about it being utterly boring?
Guh. Next time perhaps.
Camera issues and boring dessert options aside, the food was really top-notch and I was very pleased with what we ordered.
There are more and more excellent restaurants popping up around Nashville so it is extremely important to stay on top of your game and consistently create creative and playful dishes that represent the season accurately. Other than the boring decor and snoozefest of a dessert menu, Miro District succeeded at impressing us enough to win our return visit.