Okay, so my Guacamole has nothing to do with Barack Obama other than the fact that I started making gobs of the delicious stuff around Election time last year.
I simply started calling it that because it sounds awesome and it's basically the most simple and tasty guacamole recipe I have found.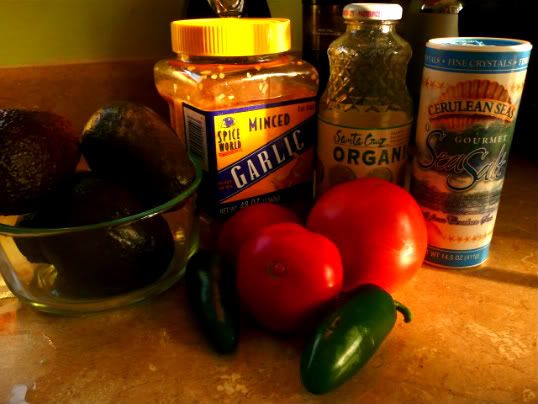 This recipe will make enough for you and others to eat on for a few days or for a lot of people to share.
I make tons when I make it, and this recipe really yields enough to fill a medium-sized mixing bowl.
You will need:
3 tablespoons lime juice (2 if you like less lime taste)
5 avocados
1.5 teaspoons salt
2 tablespoons minced garlic
2 Jalapenos, diced
2 medium sized tomatoes, diced (I used two heirloom varieties named "Mortgage Lifter!")
(chopped cilantro is optional, and very tasty)
You will also notice that my recipe lacks onions. Good job being observant. I don't like onions.
Now notice how perfectly delicious all this freshly scooped avocado looks!


See how much my patient doggy Nina appreciated the beautiful avocado!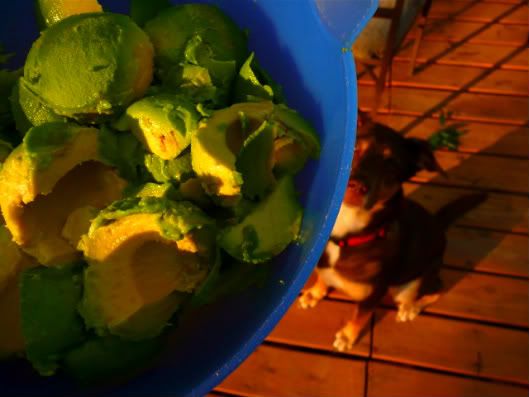 And not to leave out my other constantly-starving-for-human-food puppy, Sake.
I managed to drop some avocado right onto the top of his little doggy head because he insists on lurking underneath me while I cook.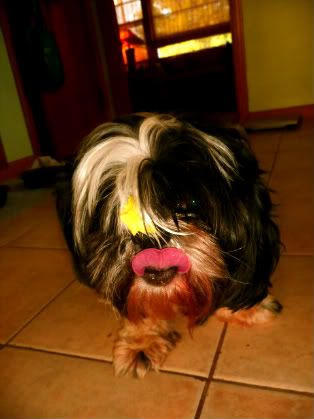 (that's pretty damn cute)
Okay, so back to the guacamole preparation!
Make sure to take a knife or fork and chop up the avocado a bit more and then add the rest of the ingredients saving the diced tomatoes for last.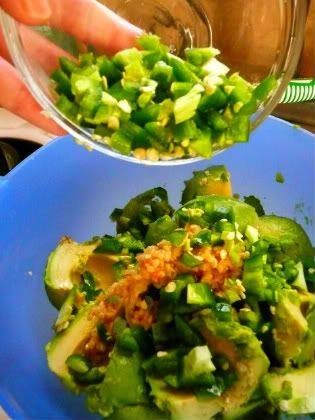 You will want to shake or strain out any excess tomato juice before slowly folding the tomatoes into the mixture, (tomato juice will just make your guacamole really watery and gloopy and you don't want that because it's not baby food)
Your finished product should look something like this: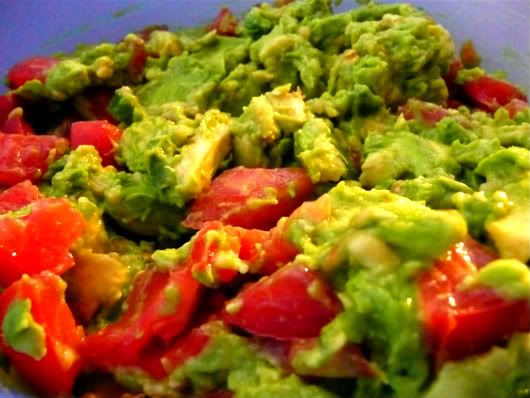 And it should taste like the heavens collided with Mexico and all of your tequila dreams came true.
If you have never made Guacamole before, you should be forewarned that it will appear brown the next day and have little pools of juice at the top. Don't worry because it's still totally awesome and fine to eat. (It is often much spicier the next day!)
Simply pour out the juice that has accumulated and stir it back up til it looks normal again.
Bravo! Guacamole is saved! All is well! You are Welcome!