I have become a REALLY big fan of Target's signature brand "Archer Farms."
Thus far, every single thing I have bought, from rice mixes to tortilla chips, have been really impressive and reasonably priced.
Their "A Handful Of Everything" trail mix is one of my favorite things to snack on and has become a staple in my kitchen.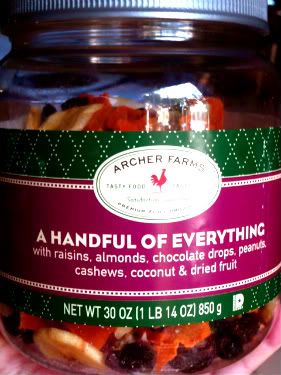 As you can clearly see, you've got dried coconut slivers, apricots, papaya, cashews, almonds, banana chips, peanuts, chocolate chips, cranberries, raisins, pineapple etc. literally in nearly every handful.
That's my kind of snacking!