To begin, I'd like to apologize to my little blog hiatus! I am a college student and work full time, so I have been a bit overwhelmed with Anatomy & Physiology work this semester. I will try to post more often!
Okay. Let us begin.
So Sunday night Z and I tried out Pei Wei before going to see "Revolutionary Road" ( Because there is nothing like spicy asian cuisine right before an extremely depressing and emotionally volatile film!) In case you didn't know, Pei Wei is a sister restaurant to P.F. Changs, and has much more of a casual/diner feel.
**Pay attention to the lit up 6 ft menu as you wait in line and note the little red Pei Wei symbols next to certain "spicier" dishes. I did not, and am embarrassed to say I had to send my first dish back. (we will get to that in a moment)
First I ordered a trio of Crab Rangoon and they were tasty but I've certainly had better. The crunch was near perfect, and the sweet chilli sauce they swam in was really delicious, but the filling was under spiced and altogether underwhelming.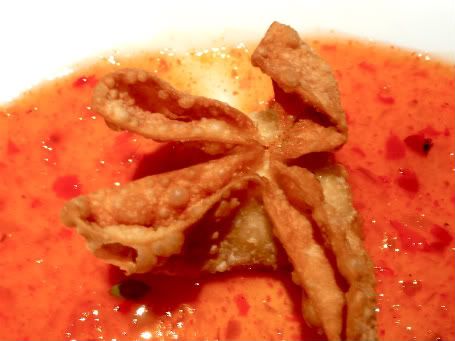 Then I ordered the Coconut curry with veggies & tofu. ALL I COULD TASTE WAS ONIONS. GROSS.
Sent that back to its maker within 2 bites. I will say that the tofu had the perfect firm texture and was grilled the way I love it. But no hint of coconut or curry anywhere. Just onioncity.
So I split Z's Pad Thai Chicken with him and it was awesome. I so prefer Thai dishes that use peanuts instead of gooey peanut sauces. The Pad Thai at Pei Wei with rice noodles is totally the way to go!